Story by: Kayla Kreutzberg
Photo: Google Maps.
A Wellington County Councillor, representing the Town of Erin is making it known that he's disappointed with the new direction and decisions made by Community Living Guelph Wellington.
Six centres in Wellington County have reduced their adult day program hours to the point that it's almost been eliminated. These facilities are in Harriston, Mount Forest, Fergus, Erin, and two in Guelph.
Ward 9 Coun. Jeff Duncan says before the hours were Monday through Friday, for 6 hours a day.
"So, it's gone from being able to have [a] caring place where your loved one can go, to being basically being provided an hour of service, or two, a week. Which does not amount to much when we live in a rural area," Duncan said.
Devin Schmidt, has been attending the program for a decade, his mom, Stacey, says there was little communication that the program was actually ending.
"It was so disgusting, like 8 months went by and we had no communication from Community Living, like nothing, it was just so vague," she said.
Stacy says Community Living just told them they were moving towards a "person-centred" approach.
"It was his life. He got up every day and that's what he was doing and looked so forward to," Stacey said.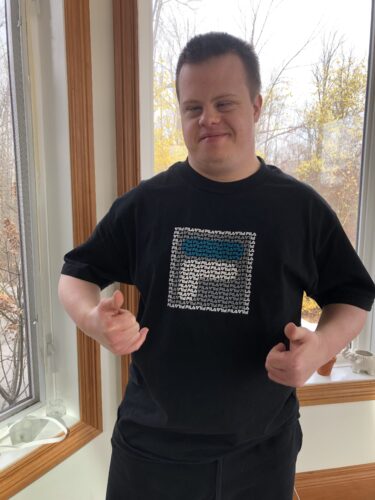 Coun. Duncan wrote an open letter to Community Living board members because many families have contacted him looking for answers in regards to their loved ones.
Duncan says families feel this move was in the works as a decision for quite some time, not really even related to COVID-19 to go this route.
"It's called this person-centered approach, it sounds great, but what it results in basically a 98 per cent reduction in the hours of service that these people get, it doesn't almost mater what the new approach will be if they're not getting the hours, how does this help them?" he said.
Stacey says she questions Community Living's decision about moving to the person-centered approach.
"I'm like, 'do you even realize we live rural?' in an hour if you came and picked him up you can't even do anything by the time you drive him back home, we don't live in a town where you can go walk to anything. And the ideas they had to provide in this hour a week for Devin, was just so ridiculous," she said.
Coun. Duncan says that we must remember that the Adult Day program clients are adults in their 30's, 40's, and 50's with the primary care givers very often in their senior to more advanced senior years.
Devin's father, Blaine Schmidt, says he was on the board that raised and self-supported the Community Living Erin facility.
"To get the construction done and to get it all built and it's kind of frustrating when you've put forth all that effort and then they basically shut the whole building down, no one's even using it right now, after we've done all that work," Blaine said.
Fundraising efforts for the facility resulted in a staggering $1 million and it was built and opened in 2 years.
Schmidt's partner Stacey says their big question to Community Living is, "If the schools are going back and day care is going back, with 15 minimum or maximum children per class, why couldn't we go back with, there was 4 of them, at the end that were attending full-time, like we didn't understand why we couldn't try to work something out. It's a very spacious building and they could social distance," she said.
Blaine adds that they would have their own bubble, just like they have in schools.
Community Living agreed to do an interview, but we have not heard back from them.